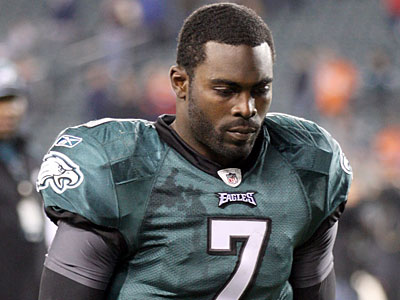 No, this isn't a post about Tim Tebow. Last time I checked
he doesn't play for any of the 32 NFL Teams.
Stop the presses: The Patriots signed him. But it still doesn't change anything.
I'm talking about Mike Vick, whose rags-to-riches life in 2010 resembled a Disney movie, just without the talking dogs. In 2010, Vick was a revitalized man, leading an explosive offense, at least for the first six games. He only started in eleven games that year, but set career high's in passing yards, QB rating, passing touchdowns, and rushing touchdowns. He was selected to his fourth Pro Bowl a was named the NFL comeback player of the year.
2007's Vick was implicated in a dog fighting ring and was sent to prison. He was "Ron Mexico" by night, soliciting prostitutes and smuggling marijuana into airports inside custom made water bottles.
That was before 2007 Vick met prison, Tony Dungy, and Jesus.
Evangelicals, at least those able to forgive Vick's dog murdering ways, embraced Vick as their poster boy of the radical conversion. He was the plot of every Billy Graham movie rolled into one, with fleet feet and a cannon arm. Vick personified the classic testimony template in which an individual begins his story on a luge speeding down a steep hill toward Hell. Jesus intercedes by causing a nasty crash to get the person's attention and then gives him a brand new and improved life.
Vick's life conformed to the template,, but as of this off-season, has veered far off the path.Instead of Vicktory-unto-Vicktory, he's endured multiple injuries and turnover ridden seasons. He suffered the indignity of a pay cut for the privilege of competing for a job against two very green quarterbacks. Chip Kelly refuses to name him the starter despite his resume.
And we, the Great Evangelical Crowd of witnesses this side of Heaven, don't know what to do with his story anymore. It's irreconcilable to our expectations that Jesus should make everything better.
Same goes for that other Christian QB: Tebow. What are we to make of him? For one magical season, Tebow energized Christians with the narrative that faith in Jesus drives the faithful into the Red Zone, even when a person is losing at life and there are only three minutes left on the clock. But now? Denver Seminary no longer offers him as proof for God's existence alongside the teleological and ontological arguments.After the media debacle at the Jets,
it's unlikely any franchise will risk controversy that comes with a backup caliber QB with an All-Pro intensity fan base in tow.
Except for the Patriots, who apparently feel comfortable using Tebow as 3rd string QB, which means they feel he'll be content on special teams. In the meantime, the oddsmakers are calculating the chances there will be rival in Foxboro and repentance that will manifest itself with the Patriots admitting they cheated the Eagles out of a Superbowl with their illegal videotaping of play calls.
Truth is there's nothing wrong with Vick or Tebow's faith. In reality we are like Job's misguided friends in the Bible. We've reduced Jesus to a P.E.D., forget that he's in the business of forging character between the 20's, and that he's marked the end zone lines at death's door.